What Shipping Methods Are Available?
We only deliver to local Zimbabweans, using DHL, Fedex and we also do self-deliveries in Harare or places close to Harare
How Long Will it Take To Get My Package?
Same-day in Harare, then 2-3 days if you are outside Harare
How Do I Track My Order?
If you signed in or created an account when you checked out:
Sign in to your account by clicking the "My Account" link.
After you are logged in, locate "Active Orders" on the left side navigation menu and click [View].
Locate and click the order number you wish to review.
The Order Status will be located under the Order Information Section.
If you checked out as a guest:
Enter the following information into the "Track Order" box on the Account Login page of our site.
Order Number
Zip Code (billing address)
Email Address
The Order Status will be located under the Order Information Section.
Your Order Information
Orders are approved once payment has been received and all shipping and billing information has been verified. This process is usually automatic, but under extenuating circumstances may take up to three business days. To understand what your order status means, please see Order Status Definitions.

Each item that is purchased requires a specific warehouse processing time before your order can ship from our facility. The processing time is different for each item and can be located on the item's description page, just under the item's image. Transit time begins once the order has completed this processing time and has shipped from our facility. Delivery expectation also varies based on the shipping method you choose at checkout.

Once your order ships from our facility, you will receive a shipping confirmation email with your tracking information. If you have your tracking number, please visit Tracking Your Order for more information.

Please Contact Us if you have one of the following issues:

· Never received an order confirmation and you do not have your order number

· Your order information has not been updated on your account

· Delivery timeframe has passed and you have not received an update on your package
How Do I Place an Order?
How do I place an order?
Follow the steps below to place an order. If placing an International order, please follow the International Order Process.
1. Add to Cart
To add an item to your cart, select 

 on the product page.
2. Review Shopping Cart
After you finish shopping, review all items in your shopping cart to verify the correct size, color, and quantity by selecting 

 at the top of any page on Overstock.com.
3. Proceed to Checkout
When you are ready to order, select the green 

 button located in your shopping cart.
4. Account Login
Returning Customers: Log into your account using the same email address and password you used to create the account. If the email address used to set up your account is no longer valid, please contact Customer Care to update your account or simply create a new account.
New Customers: New customers will need to create an account. For assistance setting up your account, click here. Or, click Checkout as Guest.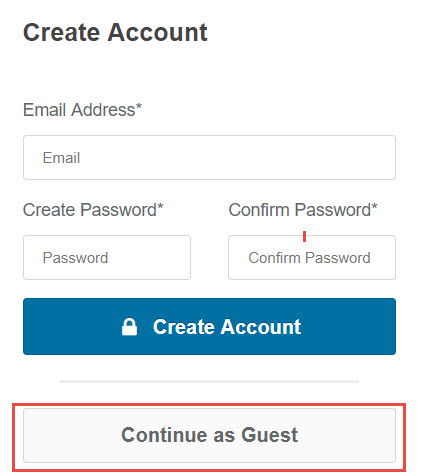 5. Enter a Billing Address
Your billing address must match the address listed with your financial institution.
6. Enter a Shipping Address
If your shipping address is the same as the billing address, check the "My shipping address is the same as my billing address" box.
If shipping to a military post office, please select AA, AE or AP as the shipping state.
7. Payment Information
Select your method of payment. View acceptable payment methods here.
If you have a Promotion Code or Gift Card, make sure to check the appropriate box and enter the Promotion code or Gift card number. If your gift card or promotional code does not calculate, view our Coupon and Promotional Code Help page.

At this time, you can only use ONE method of payment per order, with the exception of an Overstock gift card.  You are able to use an Overstock gift card in addition to your method of payment.
8. Select Delivery & Gift Options
Review your order, change shipping options if necessary and add a message to be sent to the recipient once the order ships if it is being sent as a gift.
9. Submit Order
Review all the information you have entered. If everything is correct, select "Submit Order Now" to complete the order.
Do not click "Submit Order Now" more than once, or the system will duplicate your order.
An order confirmation will appear on your screen with your invoice number.
We recommend printing a copy of your order confirmation page for your records. We will also immediately email a copy of your order to you.
Note: For Payment Information including accepted methods of payment and details on when you will be charged for your order, click here.
10. Check Your Order Status
If, at any time, you would like to review your order, click the Sign In link in the top right corner of most pages to login to your My Account.
How Should I to Contact if I Have Any Queries?
In egestas, libero vitae scelerisque tristique, turpis augue faucibus dolor, at aliquet ligula massa at justo. Donec viverra tortor quis tortor pretium, in pretium risus finibus. Integer viverra pretium auctor. Aliquam eget convallis eros, varius sagittis nulla. Suspendisse potenti. Aenean consequat ex sit amet metus ultrices tristique. Nam ac nunc augue. Suspendisse finibus in dolor eget volutpat.
Do I Need an Account to Place an Order?
Having an account is not essential as you can select Checkout as Guest to complete an order without logging in. Any orders placed as a guest require you to manually enter your address and payment information and will not be saved for future reference.
To speed up any future orders you can create an account which allows you to save your address details and store credit cards securely. Creating an account can be done as you checkout by selecting New Customer or Sign Up on the mobile site. You can also create an account at the link below:
How do I Cancel or Change my order?
Need to modify your order?
We're fans too and want you to represent your team as soon as possible!

We make every effort to process your order the minute it's placed, therefore, we cannot guarantee that changes can be made once your order has been submitted. If an update is needed, please Contact Us and we will do what we can to make it right.

Important Information: 
 While we will make every effort to update your order, the following items cannot be modified or cancelled once your order is placed

Customized Items – These are items with any personalization, including player names/numbers or personal requests, produced by Fanatics
Personalized Manufacturer Direct Items – These are items with any customizations, including player names/numbers or personal requests, produced by a third party vendor

Because of the production timeframe for these items, we are unable to make changes once the order is submitted
How can I print a copy of my Order Invoice?
Order Invoice
You should receive an order confirmation email that includes your invoice within 24 hours. If you do not receive a confirmation email you can access your invoice by following the below steps.
If you signed in or created an account when you checked out:
Sign in to your account by clicking the "My Account" option at the bottom of the page.

After you are logged in, locate "Order Status" on the left side navigation menu and click [View] next to All Orders.
Locate and click the order number you wish to review.
Order information will be available for printing.
If you checked out as a guest:
Access the "Order Status" function at the bottom of this page.

Enter the following information into the "Track Order" box on the right.Order NumberEmail Address

Zip Code (billing address)

Order information will be available for printing and review